About Elite Sight & Sound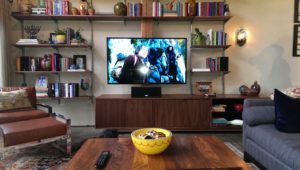 Elite Sight & Sound is a Raleigh NC-based commercial and residential audio/video contractor specializing in custom installations of video, audio, automation and networking solutions. We've been designing and installing products such as Home Theater Systems, business conference room audio & video systems, video walls, digital signs, outdoor living audio & lighting, media rooms, home security automation and much more, in the Raleigh – Durham area and eastern North Carolina area since 2006. Since our inception we have installed hundreds of residential systems, as well as commercial systems in such establishments as Travinia Italian Kitchen, Abbey Road, Anna's Pizzeria and Demarcos Restaurant and Bar in Raleigh.
At Elite Sight & Sound, we fully understand that Customer Satisfaction is ultimately dependent on how our system fulfills your objectives.  It's all about providing clients with the best performance possible at a given price, reliability, and ease of use. We work hard to make sure your installation and service experiences are the best possible, even working extended weekday and weekend hours to complete the job with minimal inconvenience for our clients.
Elite Sight & Sound works with a full range of industry leaders and cutting edge product providers.  Our in-depth product knowledge and eye to innovation makes it possible for us to work with ANY budget to provide the best system and design available.
We encourage you to learn more about the many video, audio, automation and networking solutions we provide at Elite Sight & Sound.
Then, please contact us to schedule your home and business consultation. Call at 919-714-9077, email chris@eliteavnc.com, or fill out our online contact form.  A member of the Elite Sight & Sound team will contact you promptly to discuss your video, audio, automation or networking objectives.