Apex NC Audio - Video - Automation - Networking System Installations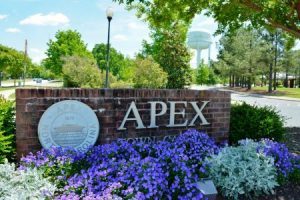 Apex, North Carolina is a fast growing community and a popular destination for growing families and new businesses. With a charming historic downtown area, thriving businesses, and great schools it's no surprise Apex has earned national recognition on several occasions, as one of the best places to live in North Carolina and throughout the country.
With so many new residents and businesses, Apex has also become a popular destination for the services of Elite Sight & Sound. From our origins in 2006, we've spent over a decade, providing exceptional audio, video, building automation and networking solutions for Apex home owners and businesses. We enjoy customizing solutions for our customers, using industry leading products and our in-depth expertise, to match the ideal result for every budget and objective.
Popular solutions for our Apex residential customers include home automation, whole-house audio & video, lighting & shade control, home theater & media rooms, outdoor living space systems, and much more. Elite Sight & Sound works with our commercial clients, providing services such as conference room audio & video and systems integrations, building automation systems, networking solutions, digital signage, video walls, and audio & video systems for restaurants, bars & retailers.
How can we be of service in your Apex home or business? We encourage you to schedule a no obligation consultation. Call at 919-714-9077, email chris@eliteavnc.com, or fill out our online contact form.  A member of the Elite Sight & Sound team will contact you promptly to discuss your video, audio, automation or networking objectives.